Mary's Funeral Plans! AKA Songs That Will Play at my Funeral: This Probably Can't Count as a Legal Will
If you're looking at this, you probably won't get anthing from me anyways!
VERY IMPORTANT INFORMATION
When I die, I want to burried in this. The KISS Kasket. It's a real thing. It's licensed. Dimebag Darrel was burried in one. I want to be, too.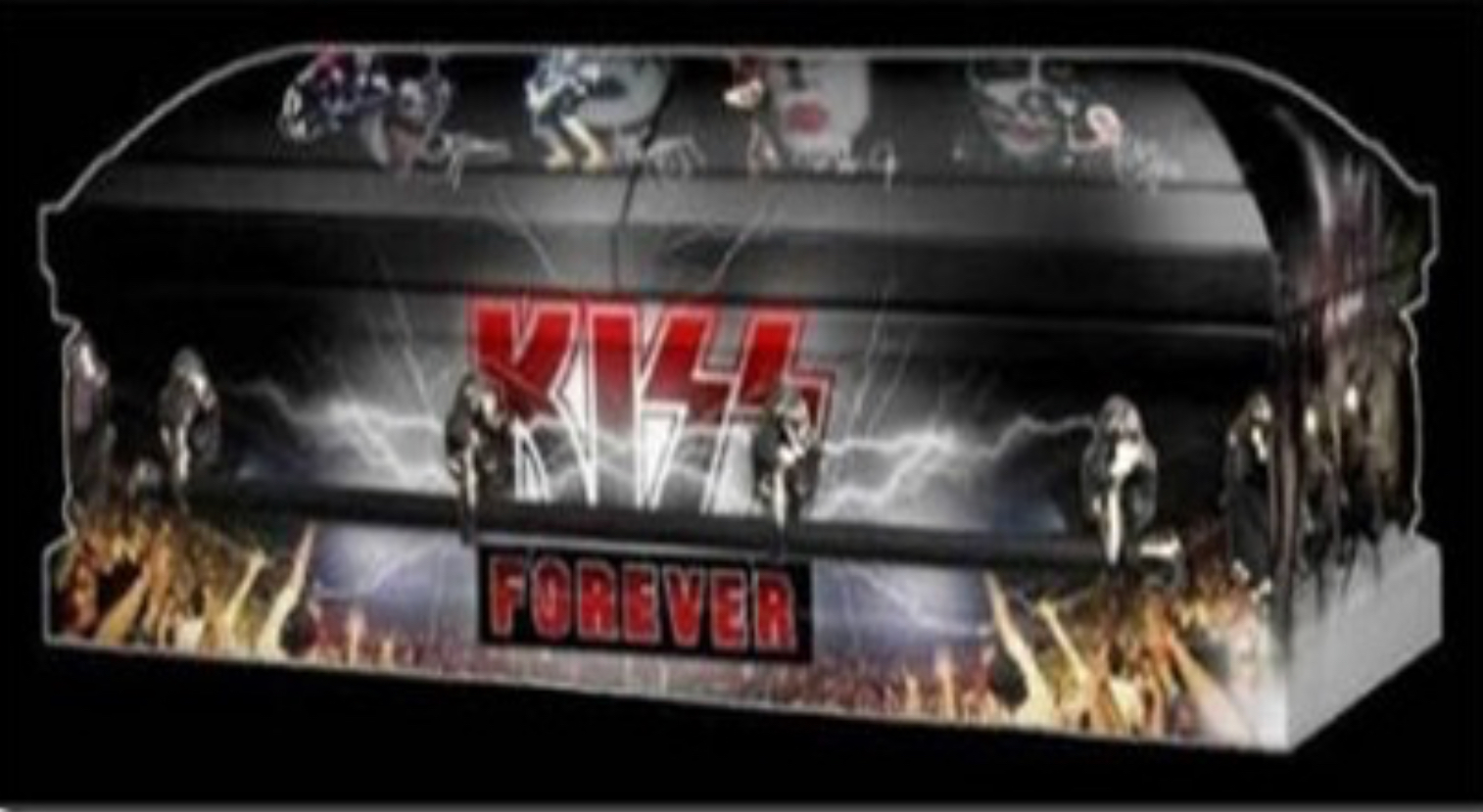 Could you invite BTS to come and dance on top of my casket? Thx.
Very Important List of Songs to be Played at myFuneral
Ha Ha You're Dead
The entire Persona 5 Soundtrack
Never Gonna Give You Up
Darude-Sandstorm
I am Very Glad Because I am Finally Returning Back Home
Second Chance
Crab Rave
Chungus Anthem
DK Rhapsody
Why not? All of Green Day's songs leading up to the Trilogy
Ocean Man
I DECLARE THAT BENEATH THE MASK INSTRUMENTAL RAIN VERSION SHALL BE PLAYED IN MY GRAVE FOR THE REST OF ETERNITY!
Buddy Holly
Say It Ain't So
The Sweater Song
Hash Pipe
El Scorcho
The Kids Aren't Alright
You're Gonna Go Far Kid
Give It Away
Can't Stop
Holiday In Cambodia
Blitzkrieg Bop
Should I Stay Or Should I Go
God Save The Queen
Computer Error Song
Reach Out To The Truth First Battle Version
Burn My Bread
Operation Ivy S/T Album
Megalovania
Goofy Goober Rock
Modern Day Delilah (By Kiss, obviously)
Shout It Out Loud
Detroit Rock City
Rock and Roll All Night
Panama
Eruption
Jump
Thunderstuck
Boom Boom Dollar
All of the album Smash by the Offspring
Pretty Fly For a White Guy
Original Prankster
Hit That
Dividng By Zero/Slim Pickens...
All of Spy Rock Road and Other Stories
The View
Song 2
Strutter
Deuce
Firehouse
Detroit Rock City
Shout It Out Loud
Rock and Roll All Nite
To close off the whole ceremony, Good Riddance
My Will
I don't have friends anyways, but here's crap they can get! Effective as of 10/29/20. If it is not updated within a year, consider the will outdated.
To my dearest and only brother, William, I leave all of my money and monetary items excluding the ones below.
To my online friend Stephen Caroll, I leave all my guitars and basses.
To my good friend Mckenzie Otwell, I leave all of my anime merch, manga, and all video game related stuff I own that my brother doesn't want.
To my closest friend, currently, Jenna Howard, I leave all of my jewelry, my flutes and piccolos.
To Ella Williams I leave one of my umbrellas. It doesn't matter which.
To Catherine (Katie) Horan, I leave my socks. Don't ask. You get my socks.
To Emma Parker, I leave my three the office pins. I literally can't think of anything else.
To Addie Sharum, since she won't stop asking, you can have that one blazer of mine with the tiger on the back.